Fat burners have been a very controversial product in the fitness industry. The name " Fat Burner" is a big claim and many people are skeptical of them working or not. Lets be honest, 99% of the population wishes they could shed down a few pounds. The general selling point to the average person is that they can lose fat taking a fat burner. However, that is the wrong approach. In this article, I will be talking about why fat burners are actually effective when used properly and I will be reviewing this great product that I ran into by the reputable people at JustSHAKE™ called the Ultimum Fat Burner. This fat burner is a revolutionizing type of fat burner and I will also be reviewing it in this article.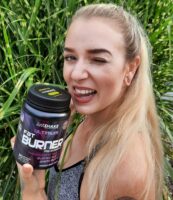 Fat burners actually do help in aiding a person to lose fat. The reason why there is a big stigma around them is due to the fact that people are uneducated on how fat loss actually works. To lose fat, you need to be in a caloric deficit. When you eat less calories than you burn ( caloric deficit), you lose bodyfat as your body needs to get energy from somewhere. When adding a fat burner to an already existing caloric deficit, you are actually going to lose more fat due to the thermogenic effects and appetite suppression that fat burners give you. What this means is that if you are in a caloric deficit, then you will benefit from this. The average joe thinks that taking a fat burner means you will lose fat while eating junk. The case is that you must already be on top of your diet game and then adding this will give you that extra edge to lose more fat.  Don't get me wrong, you can easily lose a lot of fat without taking a fat burner but if you are already eating in a caloric deficit, adding a fat burner will make you lose even more fat. If you are eating in a caloric surplus, then this will be very useful and unhelpful. This is why you may hear from people that the fat burner did not work but it actually was their diet that was off.
For example, if you are a busy person eating your regular diet of 3000 calories and your maintenance is 2500 calories, taking this fat burner wont help you lose fat. The way you lose fat is eating under the 2500 calories maintenance and then taking this product.
JustSHAKE™ Ultimum Fat Burner Analysis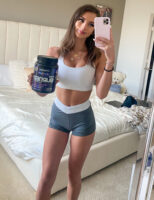 After digging into JustSHAKE's Ultimum Fat Burner, I was very intrigued by their formula consisting of three blends. First of all, this consists of a fat loss formula made sure to give you maximum results. First being the thermogenic blend, this helps give your metabolism an extra boost in which you will burn more calories while doing your everyday tasks. Using very rough numbers, lets say you have maintenance of 2500 calories and the thermogenic effect adds an extra 100 calories, that is an extra 1 pound of fat loss just from one aspect of the fat burner. There is also a burner blend which helps balance the sugar circulating in the bloodstream which encourages the body to use fat as a source of energy. Lastly we have an amino blend which removes the worry of losing muscle. It also increases fat burning during exercise. On top of this formula, you have a very great tasting drink which tastes just like juice. Many fat burners are in capsule forms and just look and taste like medicine. This takes that factor out! The way you take this product is by taking it 30-60 minutes before training in 200mL of water. This also has Taurine and L-Carnitine which help with focus and giving you a better pump. I was shocked because this means it can be a great pre workout too. Not only will you burn calories from the formula but you will have more energy to expend and that will burn even more calories.
How to Incorporate This Fat Burner?
I will provide you with a perfect workout plan to build muscle and lose fat which will incorporate this fat burner. You can take it before any weight lifting session and lift like you normally do. But the best use of this is taking it right before doing any cardio. Not only will you get energy to push yourself, but the beautiful formula will also be fully utilized and make sure you use fat as the main energy source for your cardio session. To fully maximize this, I recommend doing your cardio in the morning and taking this product with water on an empty stomach fasted. What this will do is maximize fat being burned as you will have less energy and food in you and that means the body will target the fat. You can choose to do any type of cardio that gets your heart rate up. If you are hesitant about a fat burner and their effect on your health. Consult your family doctor before consuming but overall people have been taking this for decades and it has deeply helped athletes and their performance. I never recommend taking more than two servings of the pump product in a day, however if you have experience with pre workouts then 3 servings a day are fine as well. You just have to make sure your diet is one hundred percent in check.
Overall, the JustSHAKE Ultimum Fat Burner fulfils the needs of many athletes and bodybuilders who want that extra fat to be gone during their dieting phase. The 25 calories per serving with a superior formula is not only a great addition to your diet to lose fat but also allows for an affordable , convenient and tastier pre workout.. JustSHAKE has kept their reputation of making premium formulas for their products and I highly recommend checking out their other products.
References
Examine.com. "Fat Loss Supplement – Health Benefits, Dosage, Side Effects." Examine.com, 30 July 2019, examine.com/supplements/fat-loss/.
"Office of Dietary Supplements – Dietary Supplements for Weight Loss." NIH Office of Dietary Supplements, U.S. Department of Health and Human Services, ods.od.nih.gov/factsheets/WeightLoss-HealthProfessional/.
ShannonClarkFitness. "The Complete Guide to Fat Burners." Bodybuilding.com, 23 Jan. 2019, www.bodybuilding.com/content/5-truths-about-fat-burners.html.